Dragons Dents has extensive knowledge and experience within the paintless dent removal industry. Over the past years, our services have catered for a wide market range. From residential repairs, body shops and small trade businesses, to high volume vehicle repairs for a large de-fleet centre. Our company ethos reflects within our delivery of professional excellence to all clientele whilst focusing on the prestige finish of your vehicle.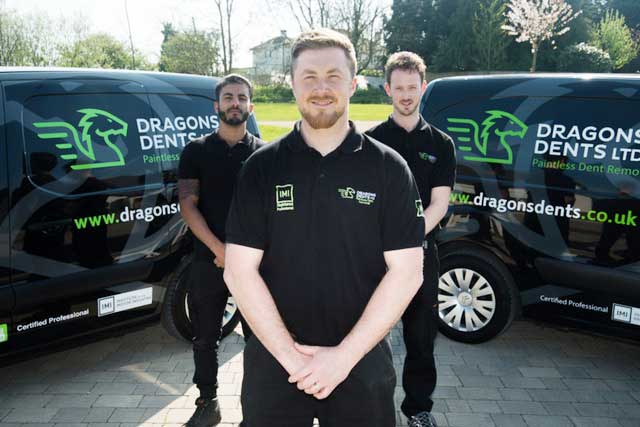 What is Paintless Dent Removal (PDR)?
It's a process in which a dent or crease is removed using a selection of tools and methods without disturbing the body paint. A wide range of bars are used to accommodate the access and severity of each repair and gently and accurately the dent is pushed out, tapped down and manipulated until the restoration is complete. If access is not permitted, then a glueing procedure is used to pull out the dents if possible.
Advantages of Paintless Dent Removal
The original factory paint work on the vehicle is unaffected using the paintless dent removal method. This keeps the cost up on your vehicle and the satisfaction of knowing that you don't have filler in your bodywork or a potential mismatch in panel colours from a respray. The main principle to the process is restoring the dented panel back to its pre existing condition without the use of sanding back the paint, filling the damage and respraying. In the unfortunate case that a panel requires a respray due to a defect in the paint work, i.e. cracked or split paint, then we carry out a process called 'push to paint'. This is where we remove the dent to limit the use of any filler being applied to the body work prior to its respray.
This is an image showing the result of filler over a short period of time. Done incorrectly the paint will chip away.
Dent Removal for Public
Not only is our approach more cost effective and environmentally friendly but we carry out the repair where it suits you, be it at home or work without disrupting your day. We turn the job around on the same day so there is no inconvenience of having no car and leaving it in a body shop until the work has been carried out.
Dent Removal for Trade
We offer competitive, discounted rates for multiple vehicle repairs. From small car park dents and creases to large panel salvage repairs. We work with all types of businesses including retail companies, car dealerships, bodyshops and more.
OUR PROMISE
Not only will you be completely satisfied with the level of service Dragons Dents delivers, but the quality and finesse of our work is second to none.
Northamptonshire
Paintless Dent Removal for Northamptonshire including Northampton, Daventry, Corby, Kettering, Wellingborough and surrounding areas.
Buckinghamshire
Proud to be accredited by